About Event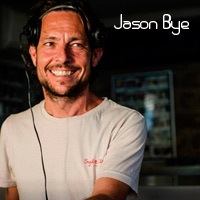 The fiestas start in May with three exclusive boat only parties on the 15th, 21st and 28th with Space residents Jason Bye, Andy Baxter and many more.
From June 5th every Sunday through till the 25th September the boat party will include transport and entry to the legendary Sundays at Space. A huge line-up is expected, along with dancers and live acts throughout the summer 2016.
With their Pioneer pro audio sound system on-board, the boats are a like floating discotheque!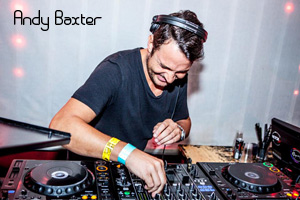 You need to get to Plastik Bar in San Antonio for no later than 5pm (4pm in September) toexchange your tickets for the wristbands. You will be walked to the boat by on e of the Float Your Boat staff. The boat leaves at exactly 6pm (5pm September) and will float you around until 9pm.
The last bus leaves at 10:30 from the bus station in San Antonio to take you to Space and their staff will be there to assist.
If for some reason you miss the boat or the pick up for the bus you can make your own way to space but you must get to the door and present your ticket before 11 pm or you will be refused entry to the club.
Please note: When you exchange your internet tickets at the pre party make sure you take some form of photo id for proof of purchase.
Float your boat also sail on Tuesdays with Carl Cox at Space included and Thursdays with Cream at Amnesia.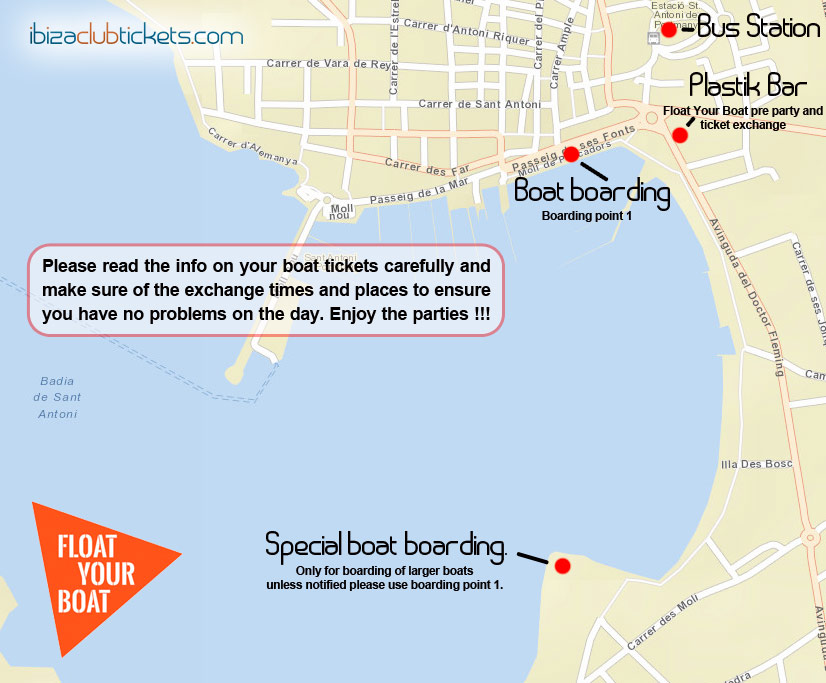 Float Your Boat / Sundays At Space 2016 Line-Up
Sunday 15th May
22nd May
29th May
5th June

Boat Party
Jason Bye
Andy Baxter

This is a boat only event.

Boat Party
Jason Bye
Andy Baxter

This is a boat only event.

Boat Party
Jason Bye
Andy Baxter

This is a boat only event.

Boat Party
Residents

Sundays at Space
Main Room
tba

Terrace
tba

12th June
19th June
26th June
3rd July

Boat Party
Residents

Sundays at Space
Main Room
tba

Terrace
tba

Boat Party
Residents

Sundays at Space
Main Room
tba

Terrace
tba

Boat Party
Residents

Sundays at Space
Main Room
tba

Terrace
tba

Boat Party
Residents

Sundays at Space
Main Room
tba

Terrace
tba

10th July
17th July
24th July
31st July

Boat Party
Residents

Sundays at Space
Main Room
tba

Terrace
tba

Boat Party
Residents

Sundays at Space
Main Room
tba

Terrace
tba

Boat Party
Residents

Sundays at Space
Main Room
tba

Terrace
tba

Boat Party
Residents

Sundays at Space
Main Room
tba

Terrace
tba

7th August
14th August
21st August
28th August

Boat Party
Residents

Sundays at Space
Main Room
tba

Terrace
tba

Boat Party
Residents

Sundays at Space
Main Room
tba

Terrace
tba

Boat Party
Residents

Sundays at Space
Main Room
tba

Terrace
tba

Boat Party
Residents

Sundays at Space
Main Room
tba

Terrace
tba

4th September
11th September
18th September
25th September

Boat Party
Residents

Sundays at Space
Main Room
tba

Terrace
tba

Boat Party
Residents

Sundays at Space
Main Room
tba

Terrace
tba

Boat Party
Residents

Sundays at Space
Main Room
tba

Terrace
tba

Boat Party
Residents

Sundays at Space
Main Room
tba

Terrace
tba